Accounting numbers and auditing the same for every transaction are key aspects of a business. A small business with very few transactions may manage to maintain its numbers in a simple spreadsheet. However, as the business grows, such businesses need dedicated accounting software to save time and prevent errors. Besides, software can help in a myriad of activities ranging from something as simple as invoicing and billing to tax calculations, generating insights from data, project management, and much more.
A few key advantages of accounting software over manual processes are: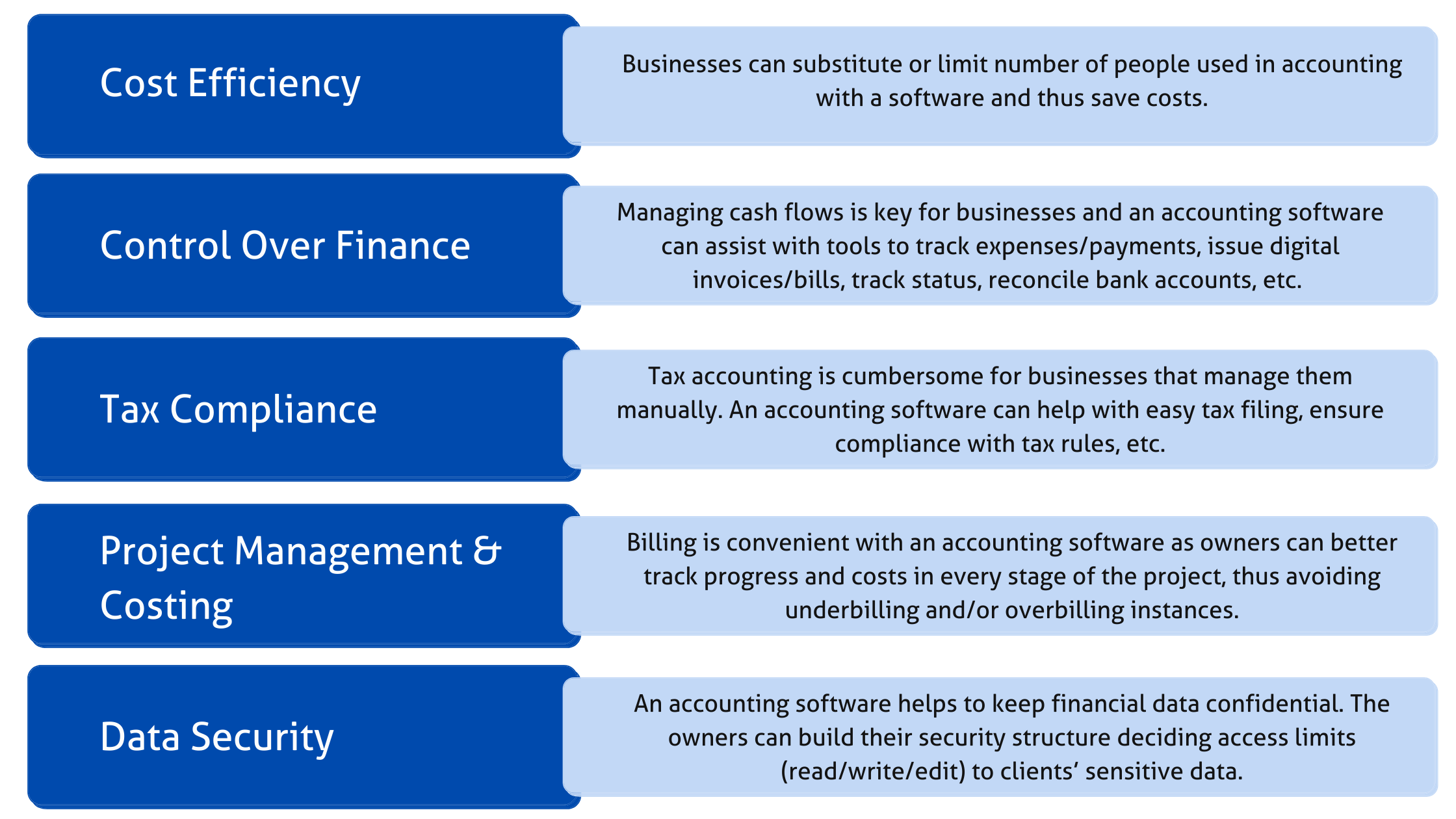 Leveraging Data analytics for convenient accounting
An accounting software equipped with state-of-the-art data analytics capabilities can help accountants achieve more benefits than mentioned. Accountants possess a ton of data on customers, transactions, and billing details that they can leverage to devise profitable business strategies. Furthermore, an accountant's role has matured from just managing books to providing insights and contributing to businesses/clients in making decisions. Accounting software enabled with advanced data analytics capabilities help accountants in this journey.
Below are some key business aspects that have seen a paradigm shift due to data analytics.
Replace the good-old auditing with "sampling" methodology – The ability to analyse volumes of transactions will help to drive accountants away from the traditional way of "sampling" based auditing. Data analytics assists in analysing an entire set of ledger data thus identifying outliers/exceptions and framing targeted action items.
Enhance client experience – Accountants are often engrossed in their day-to-day work that they may miss opportunities to enhance clients' experience. Software with Data analytics tools can help to track and analyse total time invested in auditing a client's account, staff costs spent, etc., and devise better ways to improve efficiency using such parameters. They can also roll out satisfaction surveys to measure and revisit their client retention strategies.
Forecasting – As mentioned managing cash flow is key for any business. Data analytics features of accounting software can analyse an accounting firm's cost/income, receivable/payable, and help managers make proactive decisions about their funding needs, all in real-time.
Reporting and dashboard – Data analytics enhancements of accounting software help accountants in tracking Key Performance Indicators (KPIs) related to their profits and cash flow. Data visualization capabilities in data analytics tools can help accountants prepare Dashboards by analysing clients' data.
Such Dashboards and benchmarking reports prepared periodically (weekly/monthly/quarterly etc.) can help identify profitable customers, ideate customized services for clients based on their needs.
Classify and manage risks – Analysing a client's financial information can help accountants to identify new and existing risks in the business that can otherwise be challenging through a manual auditing process.
Despite the advantages, analytical data models must be handled with caution. Factors such as wrong/incorrect data models/data points, lack of regular feedback loops to pick up new errors can offer incorrect/biased decisions that could be detrimental for accountants and/or their clients. Hence, accounting software must be used with proper expert attention.
Here at Fortuna Advisory Group we help businesses succeed and reach their full potential by employing state-of-the-art accounting software that can be customised to suit individual business needs. If you want a seamless, transparent and high quality accounting service, drop us a line at info@fortunaadvisors.com.au.