Medical practices need to be concerned about their performance. Performance measurement is key in assessing business growth and progress towards organisational vision and goals. Measures of business performance can be classified into lead and lag indicators.
Lead KPIs indicate the future success of the practice as they represent the input made by the organisation. As a service organisation, medical practices should be concerned about the performance of their employees involved in the delivery of medical services. Lead KPIs for employees include employee lost time, employee efficiency, staff turnover, employee satisfaction, and absenteeism. Lead KPIs in relation to clients of the medical practice include number of new clients, rate of client retention and level of client satisfaction. Although the measurement of these lead indicators may be trickier than lag indicators, they can influence the future growth of the practice.
Lag indicators are easier to measure and assess the past performance of the business. It is a measurement of output and thus does not influence future performance. However, the information from lag indicators are valuable in deciding the actions to be taken by management to improve future performance. Financial information from the business financial records are important sources of lag financial indicators.
---
See the relevant ratios and performance measures suitable for your medical practice below:
Current ratio: Current Assets
Current Liabilities
The ability of the practice to settle its short-term debt obligations to creditors is key to the survival of the business. Very low current ratios can indicate insolvency which may lead to the loss of business control to creditors.
Account receivables/Debtors' turnover rate: Credit Sales/Fees Average Accounts Receivables
Average Credit Days: 365 Accounts receivables turnover rate
Payment of maturing debt obligation is made possible when accounts receivables are received in good time. Allowing clients longer credit periods can cause cash flow problems for the practice. A high accounts receivables turnover rate is good for the financial health of the business.

---
A medical practice will generate revenue and incur costs. However, the profitability of the practice depends on a number how revenues are managed through competitive fees and costs control. The gross profit and net profit margins are important in assessing the profitability of the business practice.
However, key measures of productivity in the practice that drive profitability are provided as follows: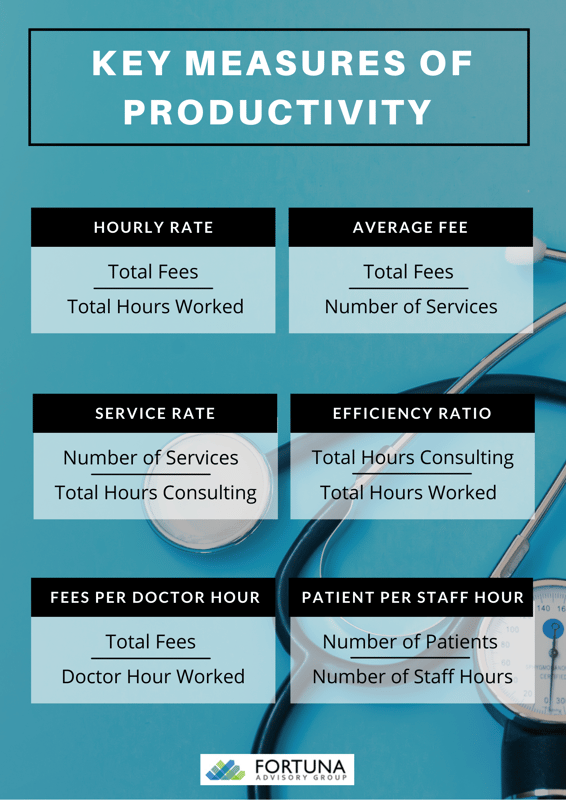 If you have any questions or doubts, please feel free to get in touch with us.